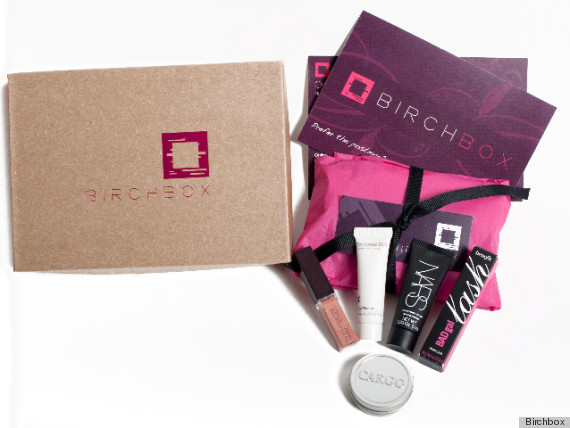 My name is Jessica, and I have a problem. That problem is largely due to unused makeup. When my subscription box addiction began, I asked myself the obvious question: "What the hell am I going to do with the crap I don't want/won't use/don't like?"
Well, the first thing I did was purge years worth of makeup I never used. If it was dried up, expired, or growing some sort of fungus, I tossed it. Then, I organized my makeup in small, makeshift bags and containers: eye products in one, lip products in the next, foundations and skin care in another. I still found that I was holding on to things I would never use. They were still perfectly good (I'm looking at you, Philosophy Cinnamon Bun sparkly lip gloss that's still sealed), but I just didn't see myself using them. Ever. But why throw something away that's sealed? I
may
decide I want my lips to be sparkly and smell like Cinnabon one day.
You never know,
the little voice in the back of my head kept whispering.
This is wasteful. You know you'll regret it the second you throw it away.
Well, I was watching a YouTube video one day, and the girl mentioned a website where you can trade unused, gently used, and/or unwanted makeup and beauty products. It's called
eDivv
. (That link takes you to sign up; I get credits for referrals, but feel free to sign up on your own.) I've heard of services like Makeup Alley, which are pretty similar, but leave you little recourse if your trade doesn't go as planned. eDivv has been so good to me thus far! It's so easy, and it's FUN and ADDICTING. Basically, you post products you don't want, including a picture, condition, size, etc. For instance, I posted the aforementioned Cinnamon Bun lip gloss. If someone interested in your deliciously sparkly lipgloss, they can do one of two things: they can offer you a trade for a specific item of theirs, or they can indicate that they're interested in the lip gloss and leave you to peruse their shop for things you may want. Once a trade is initiated, you have 48 hours to respond. If you don't, the trade is canceled and the items offered reappear in the shop.
But I'm trading limited edition stuff, and all they have is LipSmackers!
This is exactly the fear I had when I posted a barely-used bottle of Wen by Chaz Dean. That's some fancy designer grade QVC gold, and I wanted to be sure I would get an even trade. The good news is, you can counter offer, trade for multiple items, or decline the trade.
For real, though, I'm not sending my stuff until I get theirs!
I was so worried about this, too. My first trade was with a "Trusted Divvyer", which means they have completed a certain amount of successful trades and therefore earn the privilege of waiting until they receive your item to send you theirs. We communicated well, I sent her a tracking number, and checked in after a few days to ensure she got her item. My item hasn't arrived yet, but I have been in contact with her, and we've been collectively yelling at the Post Office.
Like I said, you can also take it up with eDivv if you don't receive your item. I'm not entirely sure what they'll do about it, but they really stress satisfaction. They also have a rating system and a review system. Ten days after the execution of a successful trade, you can rate your partner and leave feedback. This way, if you're new, people can read that and have a little more faith that you'll send what you say you'll send. I also always ship first, regardless of Divvyer status. Yes, that's putting all your eggs in one basket, but I always remind myself that I didn't want the item anyway, so all I'm out is the $2-3 shipping cost if for some reason I don't get what I was promised.
I'll make a haul post on this sometime soon. I've gotten some really really great stuff!
Another suggestion I have for you guys is
Yerdle
. (Again, that's a referral link.) Yerdle is so addicting. The app is free on your iPhone or iPod. Basically, you start out with a certain amount of "credits". You post your stuff, setting a price in credits, and it starts a 4 day auction for your stuff. For instance, I had a paperweight with a bee on it that my grandmother gave me. God love her, she was the most wonderful lady, but had no concept of useful gifts. I put the starting bid at 15 credits, and a "get it now" option for 75 credits. If someone chose my "get it now", I would ship it to them through UPS, with a pre-paid shipping label. Shipping is paid (in real money) by the person looking to purchase the item, and the seller prints out the label.
How can they tell what the shipping cost is?
Well, Yerdle is notoriously strange when it comes to predicting size/shipping cost. Someone paid $4 for a small deck of cards I was Yerdling. $4 was kind of outrageous, but they're working out the kinks. That's definitely a downside, but again, that crap is out of my hair.
What does this have to do with makeup and beauty products?
I was in a bidding war all freakin' day for some Yes to Blueberries Hair Care, new in the package because the seller was allergic to the whole line. They have a whole beauty section. It's tough to wade through sometimes, but it has become my newest obsession. I'm waiting for some nail stickers to come in the mail, along with some nail polish, dry shampoo, hair ties, and other goodies. So it's definitely another way to trade stuff you don't want for stuff you do.
I can't say that I've received a ton of stuff from my subscription boxes yet that I've hated. There's definitely stuff I wouldn't use, but that's part of the luck of the draw. I'll say more about that in my unboxing posts later. With a little patience, a good organization system, and fingers that bid like the wind, you never know what you'll get.